CROWN PAPER MILL LTD.
Crown Paper is established in 1996 and is a producer of tissue jumbo rolls, mill is spread across 50,000
SQM in ICAD III, Abu Dhabi with annual production capacity of 100,000MT/year.
Our products include facial, toilet, towel, napkin, C-Fold and carrier grades of tissue ranging from
12.5gsm to 45gsm. Our machine deckle for PM1 is 1860mm, PM2 2700mm & PM3 5600mm.
Our mission is to serve our partners by providing the best quality of tissue at competitive prices and
name plate servers.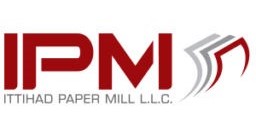 ITTIHAD PAPER MILL L.L.C
IPM is first printing and writing paper mill in GCC. Ittihad Paper Mill is located on 230,000 SQM area in
ICAD II, Abu Dhabi and covering 30% of Mina region. Ittihad Paper Mill is equipped with latest
production and converting capabilities.
Ittihad Paper Mill product portfolio includes FSC certified offset, copy & preprint grades of paper
available in folio, cutsize & reels (narrow & wide).
.